Modern Mansion
Frost Mill Lodge showcases the skill— and speed—of Safavieh's designers.
Two key elements of the Safavieh Experience are speedy service and white-glove delivery. Recently Michael Yaraghi, CEO of the company, tested the customer promise by issuing a good-natured challenge to his staff: Furnish a historic mansion, Frost Mill Lodge in Mill Neck, New York, in a mere two days, start to finish. 
Day one would involve planning the rooms and selecting in-stock merchandise from Safavieh's Glen Cove, New York, showroom. Day two would be just as demanding: Deliver the furniture, rugs, accessories, artwork and light fixtures— including crystal chandeliers! Place (or hang) them all just so. Then clean up and depart, leaving the house move-in ready. Rising to the challenge, the Glen Cove design staff decided to divide and conquer: Each interior designer would take on a room. (Evelyn Miller and Beena Ramachandra chose to pair up, grabbing two plum spaces—the entrance hall and the massive living room.) In this way, the designers ensured they wouldn't literally trip over each other. They also made a joint decision on style: They would use an eclectic mix of traditional, transitional and contemporary pieces.
This gave them maximum latitude in selecting merchandise, further ensuring they'd meet their deadline—and that the near-century-old house would end up looking "very 2017." Selecting items was relatively easy, says Keith Murphy, because the Glen Cove showroom is always chock-full of merchandise in many styles and colorways. Once the selections were made, the heavy lifting and loading began. Safavieh has people—and trucks—for that. The living room alone required two dozen pieces of furniture, several dozen accessories, about a dozen lamps, some massive mirrors and framed canvasses, and a mansion-size antique Kashan rug. All told, this one room, which measures a commodious 1,100-plus square feet, absorbed about 100 separate pieces. 
As you can see from the pictures on these pages, the furnished room appears airy and uncluttered, exactly as its designers intended. The same goes for the rest of Frost Mill Lodge. When the Safavieh delivery trucks departed and the designers breathed a sigh of relief, having answered their boss's throw-down with aplomb, they cast their eyes on a transformed Frost Mill Lodge—a modern mansion fit for a new jazz age. And they had accomplished it all in 48 hours.
SKATING THROUGH THE JAZZ AGE: The Story of Frost Mill Lodge
Trained as a lawyer, Irving Brokaw never practiced. He dabbled as a financier and became a respected painter, exhibited at the Luxembourg Gallery in Paris. But the activity that made him famous was figure skating. Scion of an old New York family, Brokaw had enough wealth to pursue skating with abandon. As a senior at Princeton in 1893, he saw a skating exhibition at the old St. Nicholas rink in New York, and he was hooked. Brokaw traveled to Europe, skating extensively and studying the sport. Returning to America, he popularized the International style of figure skating, which was less rigid and formal than the prevailing style. Brokaw won the title Champion of America in 1906. Two years later, he became the first American to skate in the Olympics, where he finished sixth. Brokaw's book The Art of Skating revolutionized the sport in the U.S. and became known as the skater's bible. His main home was in Manhattan, in what amounted to a family compound. At Fifth Avenue and the northeast side of 79th Street, his father, Isaac Vail Brokaw, had built a massive chateau, designed by Rose & Stone, in the 1880s. In 1906, the senior Brokaw hired Charles Rose to design twin neo-Gothic mansions for sons Irving and Howard, which were built adjacent to their father's house.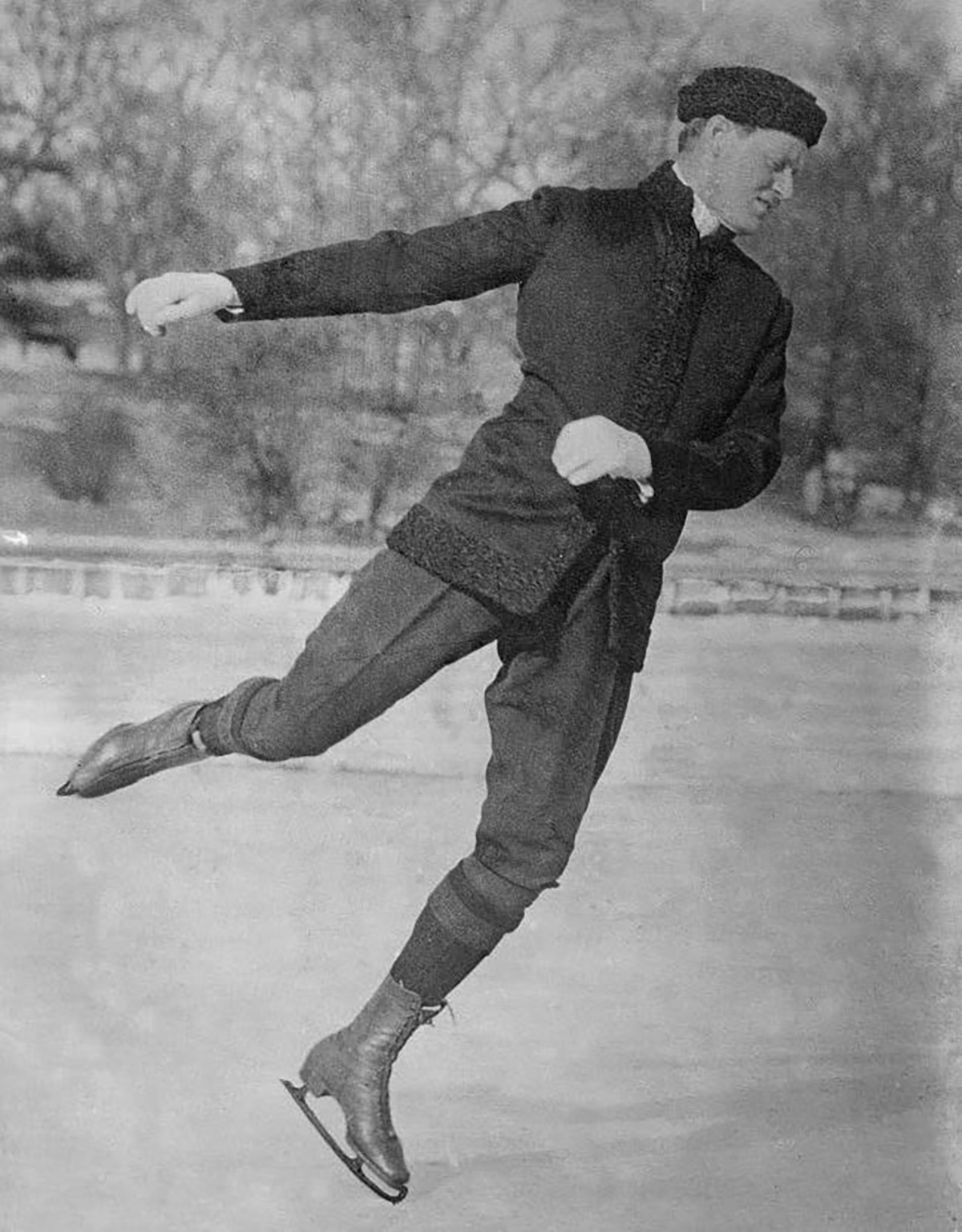 Then, in 1914, the father built a fourth house, at 5 East 79th Street, for a married daughter, Elvira McNair. Shown at right, the "L" of limestone mansions, long ago demolished, was known as "the Brokaw Corner." The 1910 census found Irving Brokaw living on Fifth Avenue with his family of four—along with a staff of 11 from England, Scotland, Ireland, Norway, France, Germany, Switzerland and Hungary. Perhaps he yearned for the quiet of a country retreat, for eventually he purchased property with a large pond, perfect for winter skating, in Mill Neck, New York. Brokaw hired the firm of Walker & Gillette to design Frost Mill Lodge, the house you see at left. He chose the neo-Georgian style, a favorite of society families who built mansions on Long Island's Gold Coast in the early 20th century. Irving Brokaw died in West Palm Beach, Florida, in 1939. He is buried in Locust Valley, New York.