Living on Point
At these new luxury rentals in Glen Cove, New York, setting up house has never been easier.
Garvies Point, the waterfront redevelopment now under way in Glen Cove, New York, is the largest real estate project undertaken on Long Island in decades. When complete, a mile-long waterfront esplanade will be home to restaurants, adjacent marinas, launches for kayaks and stand-up paddleboards, an outdoor amphitheater for live entertainment and several multi-dwelling residences. Twenty-eight acres reserved as open space for public access will be studded with parks and playgrounds, with adjacent access to about five miles of marked nature trails at the 62-acre Garvies Point Preserve. The cherry-on-top amenity will be the high-speed ferry, which will reach Manhattan in less than an hour.
If resort-style, waterfront living in Glen Cove sounds appealing, it's remarkably easy to achieve the dream. Harbor Landing at Garvies Point offers luxury rental apartments, and the first building is ready for occupancy. Through its partnership with the developer, RXR Realty, Safavieh furnished two model units to show their potential.
"We show these apartments as fully outfitted homes," says Iris Carias, a designer at Safavieh's Glen Cove flagship showroom, who created the interiors for the two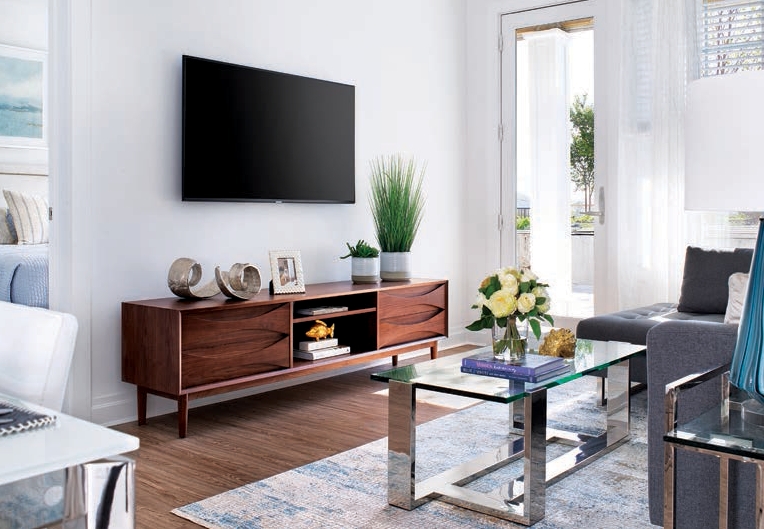 tion to furniture, rugs and art, we stocked the models with linens, towels, kitchenware—so that potential renters would get a real sense of what their life might look like here."
In designing these interiors, Carias and her colleague, Genesis Jimenez, who also worked on the second model apartment, had in mind younger couples who want a relaxed lifestyle. "I kept the look clean, beachy and modern," Carias explains. "By using a lot of blues and grays, which echo the waterfront setting, I wanted to convey a sense of warmth and calm.
"There are many amenities at Garvies Point for outdoor living," she continues. "But when you're inside your home, whether resting, working or entertaining, your surroundings should make you feel comfortable and happy. That's always our goal when designing for our clients."