LIT4410B-SET2

ELVIRA SILVER 15-INCH H GREEK KEY WALL SCONCE
Sconces
Color: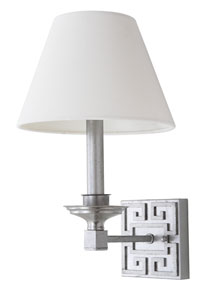 Item Details
Inspired by the renovated interiors of the former residence of Hungarian aristocrats, these wall sconces (set of 2) are modern marvels. Their polished silver finish creates their contemporary spin on the traditional Old World sconce.
SKU:
LIT4410B-SET2
Category:
Sconces
Lamp Color:
Silver
Shade Color:
Off-white
Shade Fabric:
100% Cotton
Body Material:
Iron
Dimensions (W*D*H):
9" X 10" X 15"
Shade Dimensions:
Shade Bottom: 9" x 9"
Shade Top: 4.75" x 4.75"
Shade Height: 7"
Cord Length:
6\"
Lighting Switch Type:
On / Off
Light Bulb Base Type:
E12 Screw Terminal
Lumen:
200
# of Bulbs:
2
Assembly Required:
Yes
Care
Before cleaning any lamp shade or fixture, disconnect the power source. Wipe with a soft, dry cloth. Avoid the use of chemicals and household cleaners as they may damage the finish.