LIT4147A-SET2

METALLICA GINGER JAR LAMP
Table Lamps
Color: Silver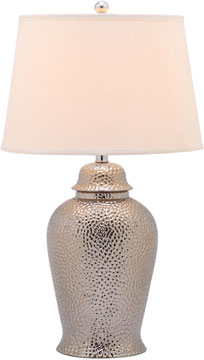 Item Details
Exceptionally chic and elegantly understated, the Metallica Ginger Jar Lamp is a well-crafted design for traditional and transitional rooms. The hammered metal look is perfect for adding visual intrigue to clean-lined, minimalist rooms. Sold in sets of two.
SKU:
LIT4147A-SET2
Category:
Table Lamps
Lamp Color:
Silver
Shade Fabric:
100% Cotton
Body Material:
Ceramic
Finial Color:
Chrome
Harp Style:
Traditional
Harp Color:
Silver
Dimensions (W*D*H):
16" X 16" X 27.75"
Shade Dimensions:
Shade Bottom: 16" x 16"
Shade Top: 14" x 14"
Shade Height: 10"
Harp Height:
7.5"
Lamp Body Dimension:
8.5\" X 8.5\" X 15.5\"
Body Dimension W/O Shade & Neck:
8.5\" X 8.5\" X 15.5\"
Cord Length:
60
Lighting Switch Type:
On / Off 100w
Light Bulb Base Type:
Screw Terminal
Lumen:
830
Assembly Required:
Yes
Care
Before cleaning any lamp shade or fixture, disconnect the power source. Wipe with a soft, dry cloth. Avoid the use of chemicals and household cleaners as they may damage the finish.