LIT4129A-SET2

DECO PRISMS CRYSTAL LAMP
Table Lamps
Color: Clear / White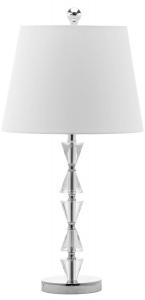 Item Details
A series of crystal prisms are artfully arranged to create the dramatic base of the Deco Prisms Crystal Lamp. Use this elegant set of two lamps to enchant a bedroom, living room, or hall.
SKU:
LIT4129A-SET2
Category:
Table Lamps
Lamp Color:
Clear / White
Shade Fabric:
White Geneva Polyester
Body Material:
Crystal
Dimensions (W*D*H):
12" X 12" X 21"
Shade Dimensions:
Shade Bottom: 12" x 12"
Shade Top: 9" x 9"
Shade Height: 9"
Body Dimension W/O Shade & Neck:
5\" X 5\" X 12.125\"
Cord Length:
61
Lighting Switch Type:
On / Off 60w
Lumen:
830
Assembly Required:
Yes
Care
Before cleaning any lamp shade or fixture, disconnect the power source. Wipe with a soft, dry cloth. Avoid the use of chemicals and household cleaners as they may damage the finish.