TBL4062B

MACEN TABLE LAMP
Table Lamps
Color: White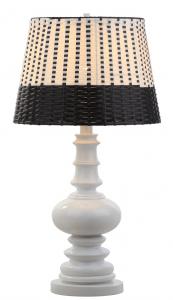 Item Details
Add a touch of sophistication to your décor with this luxurious contemporary table lamp. A modern spin on traditional lighting, its monochromatic finish creates a bold silhouette in any living room. Like a little white dress, its chic design makes it a classic.
SKU:
TBL4062B
Category:
Table Lamps
Lamp Color:
White
Shade Color:
Black / White
Shade Fabric:
Plastic
Body Material:
Resin
Dimensions (W*D*H):
17.25" X 17.25" X 33"
Shade Dimensions:
Shade Bottom: 17.3" x 17.3"
Shade Top: 17.3" x 13.3"
Shade Height: 12"
Lamp Body Dimension:
8.5\" X 8.5\" X 18.63\"
Body Dimension W/O Shade & Neck:
8.5\" X 8.5\" X 18.63\"
Cord Length:
60\"
Lighting Switch Type:
On / Off 60w
Light Bulb Base Type:
E26 Screw Terminal
Lumen:
800
# of Bulbs:
1
Assembly Required:
Yes
Care
Before cleaning any lamp shade or fixture, disconnect the power source. Wipe with a soft, dry cloth. Avoid the use of chemicals and household cleaners as they may damage the finish.